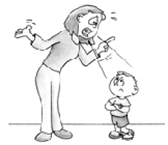 Do you have a child who sometimes needs some behavioral adjustments? Well, do we have the thing for you!
Baby Dipper
is sponsoring a
FREE webinar
from
Amy McCready
, founder of
Positive Parenting Solutions
, and you are welcome to attend and to invite your friends who might also have children with similar attitude problems.
What:
The Art of Consequences webinar
When:
Wednesday, October 13, 9:00-10:00 PM ET/6:00-7:00 PM PT
Who Should Attend:
Frustrated parents of kids ages 2-16
What You'll Learn:
Amy McCready, Founder of Positive Parenting Solutions, will present a strategy-packed, interactive, LIVE online webinar designed to teach you…
* Why kids really misbehave and what you may be doing to make it worse!
* Punishment vs. consequences and why it matters to your kids
* 5 R's of Fair & Effective Consequences for toddlers to teens
* No-fail consequences to put an end to mealtime battles, backtalk, tantrums, whining and so much more
You can ask questions via text chat and Amy will make them part of the webinar.
Access:
All you need is a computer with a speaker to hear the presentation. We'll send you the log in instructions.
How It Works:
Visit the link for the
FREE webinar
and click on the button with the date and time. You'll receive an email confirmation with the link to access the webinar. When you "enter" the webinar, you'll see the session slides and a live video box of Amy – but she won't be able to see you! Use the chat box to type questions or make comments.

Cost:
No charge for participants at the live event!
I know I'll be tuning in to learn how to handle some things that happen at our house! I look forward to connecting with many of you that evening as we learn together.